More and more, we hear about Monkeypox on the news. Everyone, especially queer people, should know the symptoms and how to keep yourself safe. Those at higher risk of Monkeypox must do their best to avoid it.
With the Belfast Pride Festival on at the moment, the Northern Ireland Public Health Agency reminds those celebrating at the festival what they should look out for with monkeypox.
"While anyone can catch monkeypox, the majority of monkeypox cases in the UK continue to be in gay, bisexual and other men who have sex with men (MSM), with the infection being passed on mainly through close contact between people in interconnected sexual networks.

"Before attending any group events including bars, clubs and outside events , check yourself for monkeypox symptoms, including rashes and blisters. If you have monkeypox symptoms, do not attend events or engage in any physical contact until you've called a GUM clinic and been assessed by a clinician. It can take up to 3 weeks for symptoms to appear after being in contact with someone with monkeypox, so stay alert for symptoms after you have skin to skin or sexual contact with someone new."

Dr Jillian Johnston, Interim Assistant Director in Health Protection at the PHA, Monkeypox… don't let it spoil your Pride celebrations! accessed 2022-07-26
The Public Health Agency in Northern Ireland recommends that some people should be explicitly vaccinated. It says,
The PHA currently recommends that MVA (the Smallpox vaccination) is offered to:
* Healthcare workers who are caring for and who are due to start caring for a patient with confirmed monkeypox (2 doses are normally required)

* Gay, bisexual and other men who have sex with men. Your clinician will advise vaccination for you if you have multiple partners, participate in group sex or attend 'sex on premises' venues. (One dose now – a second dose may be advised later at your sexual health clinic)

* People who have already had close contact with a patient with confirmed monkeypox. Vaccination with a single dose of vaccine should be offered as soon as possible (ideally within 4 days but sometimes up to 14 days)

Public Health Agency, Protecting you from monkeypox: Information on the smallpox vaccination, accessed 2022-07-26.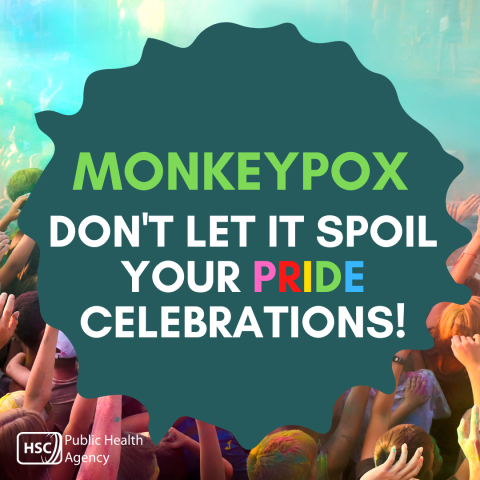 Information in your area
On this blog, I mainly write about living in the United Kingdom or Ireland; the advice in each country often differs, albeit usually only slightly.
If you live in the UK, please click on the link most appropriate for you:
If you live in the Republic of Ireland, please visit the information from the HSE.
It's not homophobic
I've heard many people say that targeting gay and bisexual men and men who have sex with men in information about Monkeypox is homophobic, but that is not how I see it. It's now how Guardian columnist Owen Jones sees it, either.
Listen to what he has to say:
So, if you are at risk, please vaccinate if you can, and if you cannot, please take care.